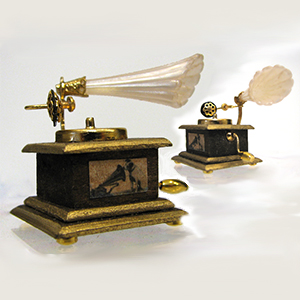 This kit is for a charming 1 inch to 1-foot scale model of an early gramophone enjoyed in the late 19th to early 20th Century. The box is of wooden pieces with metal parts for the mechanics and a vintage bead for the horn.
All the parts necessary to complete the project are included.
Tools and supplies that you will need to complete the project are a small file, tweezers, a paintbrush, and small scissors.   White glue such as Tacky or Weldbond is needed for the wood and label; a glue for gluing metal to metal (G-S Hypo Cement or Bond Jewelry Cement or gel-type Super Glue); Gold paint or gold pen; stain or stain pen in your choice of color; a small amount of medium sandpaper; and if desired – antiquing solution (Such as Folk Art -Med #811).  
Scale: 1 inch = 1 foot Finished size: 1″ x 1 ½" x 1 ¼" base = 1" x 1" , horn extends 1/2″ beyond the base.
Kit price: $15.00