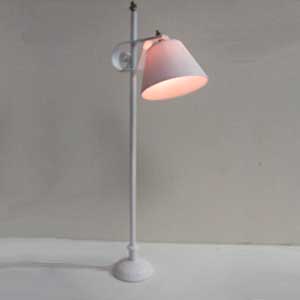 G-L-25 –     Bridge Lamp  
 size: 5"   1 light  
A typical floor lamp of the middle 1900s, this lamp was often moved near the card table to better see the cards – hence the name "bridge lamp". This lamp is designed after the one found in Caroline's bedroom in the White House.
The lamp may be white, brown, or black with a white or colored shade.
Light can be either incandescent or LED.
(LED light – can be wired for 3v or 12volts)
Price: 70.00