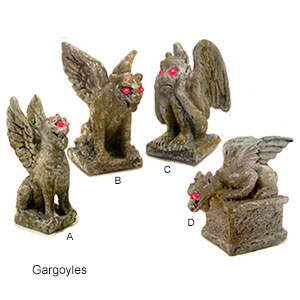 G-LO-27- a,b,c, or d – Gargoyles (4 different) size: ~ 2-3/8" tall 1 light $25.00 each
There are presently 4 different Gargoyles – sold separately – at $25.00 each.
Each of the four gargoyles has a Red LED shining through the eyes. The LED is electrified to use either 3 volt, 9 volt DC current or 12 volt DC or AC current. Thus you may use the Gargoyle anywhere you wish and either connect them to you standard dollhouse current or run them on a battery. You must choose which current that you are going to use, since they will work only on the current for which they are wired.
The gargoyles are made of hand painted resin and you have a choice of mottled stone grays or with a grrenish tone over them resembling a mossy stone surface.