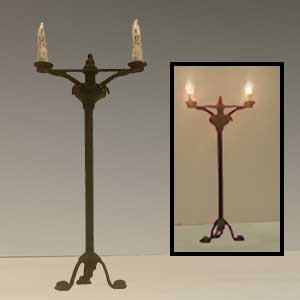 H-L-18 Candlestands are very similar to the one- inch scale G-LC-12.  This Half Scale Floor  Candle Stand is available in two configurations:      un-lit with fake candles or lit with electrified candles. A metal finial sits in the middle of the crossbar between the candles on each end.  It  sits on 3 legs assembled as a tripod. The finish  is available as a "black wrought iron" or as a  weathered dark tin finish.
H-L-18 – Two Arm Candle Stand – no light – It has a fake candle in the dish at each end of the arm. Price: $40.00
  H-L-18e – Two Arm Candle Stand – 2 lights – This is the same candle stand as in H-L-18 but is electrified. The candles at the ends of the cross arm light.  
The Candle Lights can be either 12-volt incandescent or LED.  (LED lights – can be wired for 3volts or 12v).                  Price: $60.00