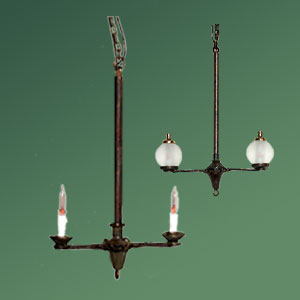 H-C-09 –Two-Armed Rustic size: 23″w x 2 lights
A 2-candle "wrought iron" hanging lighting fixture, perfect for a Country, Early American, Medieval or other rustic setting – This chandelier is available in several forms with either black or antique tin finish. The chandeliers have a pipe in the center connected to a chain that goes to the ceiling. The candle dishes are simple funnel shapes.
Lights can be either incandescent or LED.
(LED lights – can be wired for 3v or 12volts)
Price: 115.00