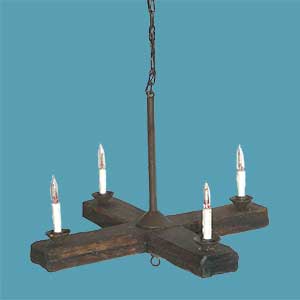 H-C -19 – 4 Arm Tudor – size: 4 lights
A rustic chandelier suitable for Medieval, Tudor, Country or any Rustic décor – A candle sits on each end of a rustic wooden cross shape which is hung from a metal pole in the center. The pole is connected to a chain for the correct hanging height. Height given includes the length of the metal pole excluding the chain.
Lights can be either incandescent or LED.
(LED lights – can be wired for 3v or 12v)
Price: 140.00