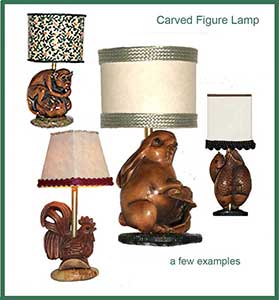 G-L-07 – Carved Base Lamps –
size: varies ~1-1/8-2-1/4" 1 light
Each lamp is custom made to best fit the carving in both height and materials. I have over 300 various hand carvings of animals, people and even bugs. They make wonderful bases for lamps.
To see the many carvings check them out at
You choose your figure, shade, base and trim color.
The lamps can be made with replaceable incandescent bulbs or 3, 9 or 12 volt LEDs.