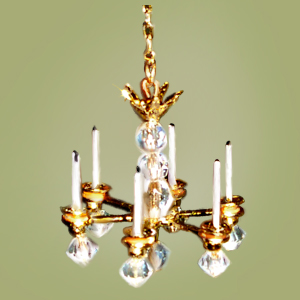 Q-C-07 – Body size: 5/8″ H x 1/2″ or 3/4″ D 0 lights
This 6-armed elegant chandelier is available in 2 sizes. Each arm has a pendant of a genuine Swarovski crystal below the candle bobeche. Whichever size you choose, you will be captivated by the twinkle and shine of the crystals. It hangs by a chain from a ceiling canopy.
Q-C-07-24 – For the smaller area, this dainty version is                 the equivalent of 24″ in diameter.

Q-C-07-36 – This larger imposing version is the                           equivalent of 36″ in diameter