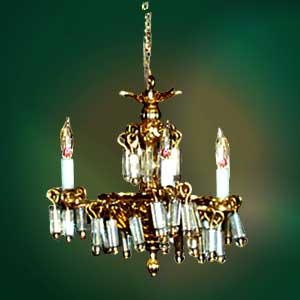 H-C-05 – Goldilocks Size:
This Crystal Chandelier is a stunning centerpiece for your half-scale room. The lower tier has three electic candles with crystal lustres hanging from beneath each. A fourth light shines from within the coumn area. The top tier has more lustres hanging from that level while a 22 karet gold-plated crown tops all.
Lights can be either incandescent or LED.
(LED lights – can be wired for 3v or 12volts)
Price: 130.00