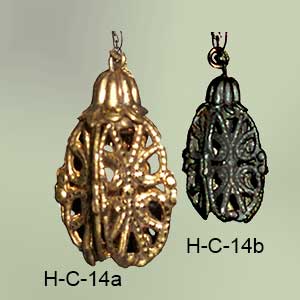 H-C-14- Hanging Lantern size: 1 light
This Ceiling Fixture is available in either antique gold or black. – The hanging lantern is a four-sided filigree oval hanging from ceiling by a chain with one light inside.
H-C-14a – Antique gold Lantern
H-C-14b – Black Lantern
Light can be either incandescent or LED.
(LED light – can be wired for 3v or 12v)
Price: 40.00