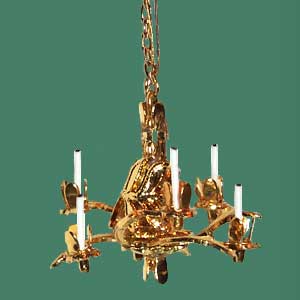 H-C-07 – Kristen Size:
          A "Capodimonte" decorator chandelier with leaf clusters around the center column – Available with a white or ivory base, Kristen has green leaves and rose candleholders with touches of gold on the edges.The roses can be red, pink, yellow or your custom color choice. There are six arms with six unlit candles, one on each arm and one bulb hidden among the leaves in the center column. – 1 light.
Also available in gold plating – no colors.
Light can be either incandescent or LED.
(LED light – can be wired for 3v or 12volts)
Price: 60.00