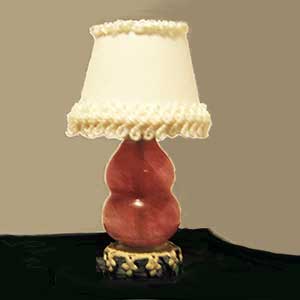 G-L-04 Boudoir Lamps sizes: vary – 1 light
G-L-04i – Pink Quartz vase – size: 1-7/16" tall
The pictures do not do this lamp base justice. A beautifully shaped piece of glowing pink quartz is topped by a trimmed ivory shade. The 22K gold pieces in this lamp have been washed with white paint.
Light can be either incandescent or LED.
(LED light – can be wired for 3v or 12volts).
$35.00 each / $60.00 pair