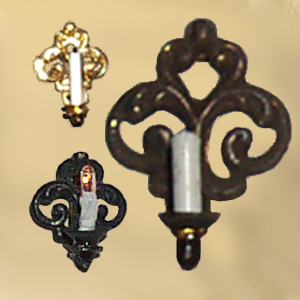 Q-S-14   At home in many decors, this sconce is available in 22K gold plate or black finish. It holds a candle in the candle cup. Price: 10.00

Q-S-14 – gold plated   $10.00 pr.

Q-S-14b – black finish   $10.00 pr.

Q-S-14e – electrified with 1.5v bulb – gold or black   $25.00 pr.

size: 3/8″ H x 5/16″ W