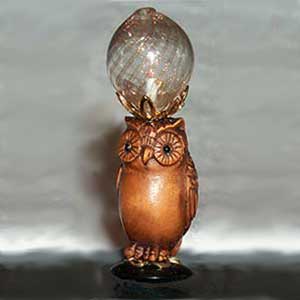 G-L-08    Carved Tall Owl with Globe                                    
 size: ~ 1-5/8" tall  – 1 light            
Tall sitting owl with Murano Globe on his head. Shape and color of globes vary as they are hand blown. Ask about them when ordering and we will try to meet your wishes.
Light can be either incandescent or LED.
(LED light – can be wired for 3v or 12volts).
Price: 60.00