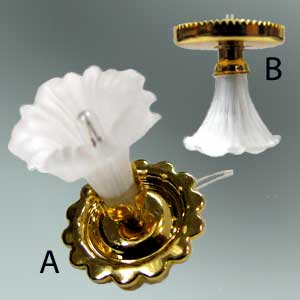 G-C-55 – Trumpet Ceiling Light size: ½"-5/8" H x 3/4" D 1 light
The trumpet itself is available in frosted white and several colors. The Ceiling plate is 22k gold plated brass. Each light has one replaceable 12 volt light in it.
G-C-55A – This light has a fancy disk against the ceiling. The disk itself has concentric rings which form a 3 dimensional design on the plate.
G-C-55B – This light has a flat disk which is dimensional on the ceiling. The plate has serated edges where it meets the ceiling.
Price: 20.00