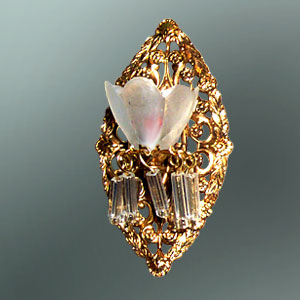 G-S-01i-AN – Victorian 1 light each sconce
        A sedate sconce with a delicate flower shade – There are a number of variations on this sconce. All have the lily shade surrounding the light. Most of them are available in bright gold/white shade or in antique gold/amber shade. Add the designator –AN at the end of the number for antique. Some have a Swarovski crystal hanging below or lustres surrounding the base of the light. They will be mentioned on the individual descriptions. 
See Victorian G-S-01a thru Victorian G-S-01i. Priced by the pair.      
G-S-01i–AN – This very Victorian back plate is rich filigree in a diamond shape. A cluster of lustres surround the bottom of the shade. Only in Antique finish. size: 1-5/8"h x 1-3/4"w
Price: 50.00