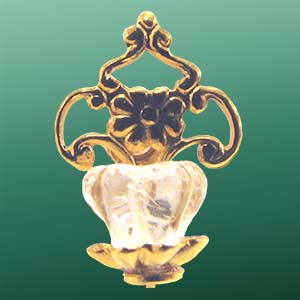 H-S-10 – Votive Candle Sconce size: 0 or 1 light
This small wall -hung light in a glass reminds me of a votive candle or it could also be a Victorian night light. The metal is 22K Gold plated and the scalloped dish holds a small glass holder. It is available both lit and not lit.
H-S-10 – is the designator for the unlit version. Sold singly. $15.00
H-S-10e – is the electrified version.                      Because of the size of the glass, it is only available with an LED. Each sconce is electrified with an LED.                                   
(LED lights – can be wired for 3v or 12volts)                                           Sold singly.    $25.00