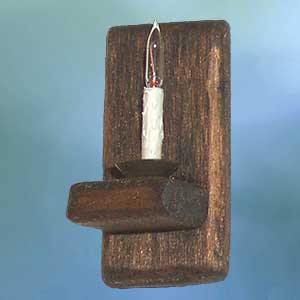 H-S-07 – Wooden Tudor Sconce size: 1 light
A wall hanging candle – This simple candle in a "tin" dish sits on a shallow wooden wall shelf that is appropriate in many settings from Tudor to pubs to castles to any Rustic or Early American setting. The wood backing for the wall has beveled edges and the candle has drips down it. Priced by the pair.
Each sconce is electrified with a replaceable GOR – 12 volt bulb or an LED.
(LED lights – can be wired for 3v or 12volts)
Price: 30.00