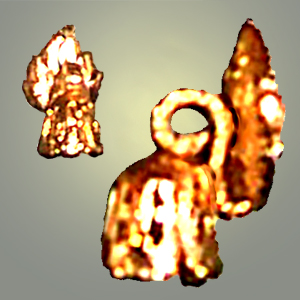 Q-S-20   Unique 22K gold plated leaf sconce with a filigree bell shade hanging from a s-shaped curved arm – These sconces can be hung in either direction – with the light shade hanging down or with it facing up. They are also available electrified, using either a 1.5v bulb or an LED. Beautiful shadows are created on the wall by the lit filigree. Price: 10.00

Q-S-20 – not lit   $10.00 pr.
Q-S-20e – electrified with 1.5v bulb or LED   $25.00 pr.
size: 3/8″ H x 1/4″ W