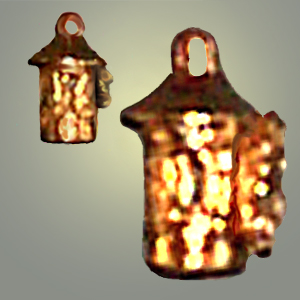 Q-S-19   Size 5/16″ H x 3/16″ W
These lanterns look great beside the front door or any other place you would like a lantern type wall sconce. They can also be used in taverns, rec rooms etc. They are available in either 22K gold plate, in wrought iron black or in antique tin finish. They can also be electrified with 1.5v bulb or LED. Price: 10.00

Q-S-19 – gold plated   $10.00 pr.
Q-S-19b – black or antique tin   $10.00 pr.

Q-S-19e – electrified   $25.00 pr.