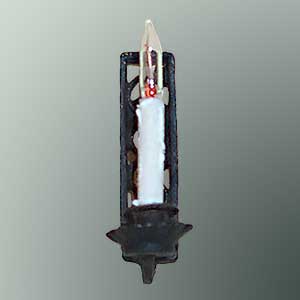 H-S-04– Slim Taper Sconce size: 1 light
Similar to H-S-02, this sconce is slimmer and more elegant. The candle sits in a candle cup on a fluted dish base. The back shown has cut-outs in it. It is also available with a solid metal back. For a finish, you can choose Antique Tin, "wrought iron" or copper finish. This sconce is equally at home in an Early American, Country or many other settings. They go well with H-C-09, H-C-20 and other simple dark finish chandeliers. Priced by the pair.
Each sconce is electrified with a replaceable GOR – 12 volt bulb or an LED.
(LED lights – can be wired for 3v or 12 volts)
Price: 30.00